Over the next few weeks we will be highlighting some of the new features in hc1 4.0, beginning with the Create Opportunity Wizard, which streamlines communication across departments – without derailing sales opportunities.
Creating a Measurable Pipeline
Creating a measurable sales pipeline has never been easier, thanks to the new Opportunity Wizard. Creating opportunities in hc1.com illuminates a 360-degree view of your sales pipeline, driving closed-loop accountability across departments.
You can look up existing organizations, or add new ones as prospects and clients change over time. The Opportunity Wizard gives a sense of efficiency and consistency to the sales process, reducing confusion and increasing success.
Accessing Revenue Outlooks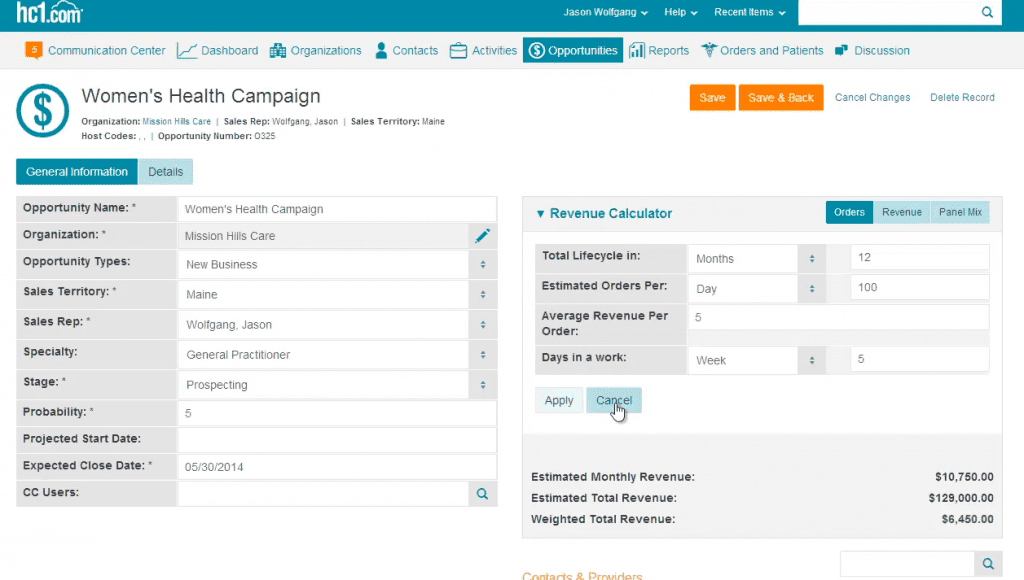 The Opportunity Wizard provides visibility into total revenue, monthly revenue, and weighted revenue, ensuring that everyone is on the same page regarding sales opportunities. Authorized users can also calculate deal size and view client snapshots, providing sales reps with actionable data and over-preparing them for client meetings.
Defining Accountability
Driving business to your lab is a priority of hc1.com, and the Opportunity Wizard provides you with the resources to drive internal operational management and accelerate success. With the Opportunity Wizard, you can assign specific sales reps to a case, define territories, and add specialty notes which drive accountability and action. Collaboration is also encouraged in the Opportunity Wizard – when you need to reach out to a colleague, create a task and assign it to them.