April 6, 2021
Recently hc1 Physician Executive, Peter J Plantes, MD, gave an ignite-style talk at the AMIA 2021 Virtual Informatics Summit. The key topic covered was how the COVID-19 pandemic showcased the importance of biomedical and health informatics research. Due to the health crisis, the whole world recognized the need for data sharing and harmonization, but now one year later, what are those lessons learned and how can they now be applied to all aspects of healthcare?
In his presentation, Dr. Plantes spoke on how at a time when data was essential for decision-making, hc1 realized the power of the hc1 platform. The platform contained a wealth of COVID-19 testing data from more than 20,000+ laboratories across the country. The 20,000+ labs were doing a mix of PCR or Antibody tests. hc1 quickly pivoted our development resources to create the CV19 Lab Testing Dashboard™in March and later hc1 Workforce Advisor™.
hc1's COVID-19 response is just one way in which this critical data organization, normalization, and availability are critical. Because more than half of all the diagnostic lab results in the country are ingested into the hc1 Platform. "We can use the same techniques from COVID-19 and learn how to manage other disease states like diabetes, heart, and kidney disease. Bring all those elements together in terms of complex databases in terms of big data and the ability of these massive computers to digest artificial intelligence in machine learning but together hc1 was able to create Precision Health Insight Networks (PHINs)," said Dr. Plantes. "This is the merging of three initiatives that are going hyperactive in healthcare for population health, precision health, and digital transformation, and when you merge all of those together you get PHINs."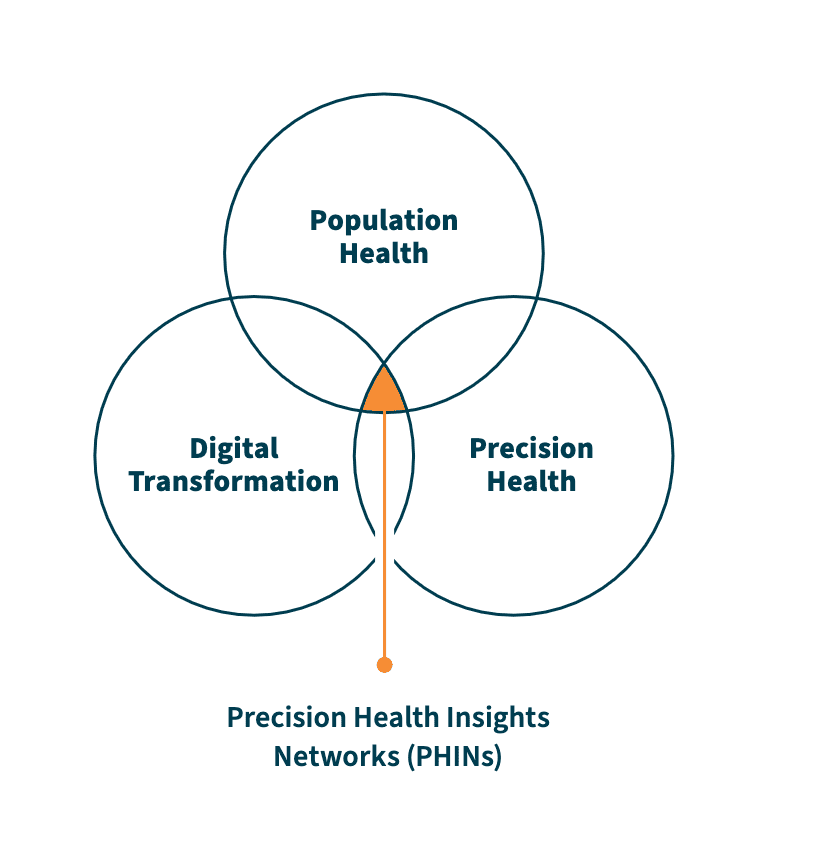 Precision Health Insight Networks (PHINs) deliver mass personalization in healthcare by securely and intelligently integrating, normalizing, enriching, and transforming health data into the signals that identify risk and drive care decisions that cater to each patient's unique needs. Through PHINs, health systems and health plans deliver markedly better outcomes while significantly reducing healthcare costs. These networks bring together all available patient health information, like test results and prescriptions, and clinical guidelines to automatically generate the signals needed to ensure fast and accurate diagnosis and identify the medications that best align with the patient's unique genetic makeup and condition for optimal prescribing.
With the creation of the CV19 Lab Testing Dashboard, hc1 was able to provide an early warning of when a surge in COVID-19 cases was occurring, so that public health officials and healthcare providers could take action to prevent further spread. In all 3,000+ counties within the United States and micro-communities, the dashboard also hc1 gave a Local Risk Index (LRI)LRI score. If the score was high, more precaution was needed versus a lower number. With the LRI, the dashboard was able to inform healthcare experts when they could reopen, when wearing a mask was essential, or when there needed to be containment. As more data came in, hc1 was able to help predict the trends in data. In Dr. Plantes' session, he stated, "One of the most important things was we were able to trend the data over time and we could also break it down by demographics; break it down by gender and age groups."
With the knowledge of LRI for both counties and micro-communities, hc1 was then able to turn and help employers and universities manage their micro-communities with hc1 Workforce Advisor. Workforce Advisor is able to be used at a local, regional or national level where both employers and universities are able to see all data points into one location. Employees or universities could map out their locations and see the data come in via personal cell phones, access points around campus or offices, data from the laboratories, or students' or employees' LRI of their home communities. For an example of a large employer implementing hc1 Workforce Advisor, read Model for Mitigation of Workplace Transmission of COVID-19 Through Population-Based Testing and Surveillance.
PHINs hold tremendous promise to deliver countless breakthroughs that will enhance the way healthcare is delivered, saving millions of lives and billions of dollars. By bringing to light the dysfunction resulting from the nation's current care model, COVID-19 has showcased the innovation that our communities deserve.
In most cases, the infrastructure and data already exist and only the right connections and processes need to be put into place for providers and patients to see the benefit. PHINs make it possible for healthcare organizations of all sizes to manage complex patient information securely across networks and personalize care for all patients.
What to learn more about PHINs?
Download the e-book: The Evolving Care Continuum: Strategies to Effectively Leverage Precision Health
Watch Dr. Plantes' video: The Power Of Localized Data For Public Health
Read Brian Stout's blog post: Precision Health: Complexity's Cure
Subscribe to the hc1 blog for regular updates
Contact Us – we love to talk about PHINs